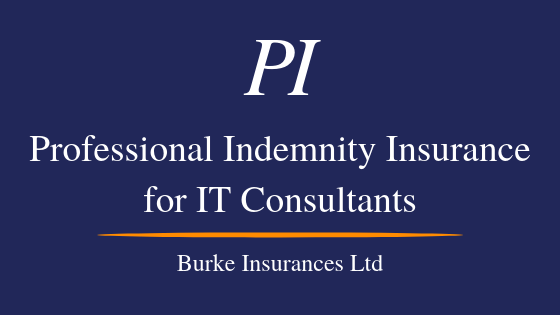 Professional Indemnity Insurance for IT Consultants
Professional Indemnity Insurance
Professional indemnity insurance for IT Consultants covers you in the event that you or your company are accused of negligent advice and/or services given to a client.
IT Consultants are particularly exposed to professional indemnity claims given the the nature of their work and the responsibility they have.
IT Consultants
For example, if an IT Consultant is working on a clients website and something goes wrong and the website goes down or becomes unpresentable to customers. Then that client may suffer a financial loss as potential customers are bouncing off of the website or unable to make purchases.
The IT Consultant could be sued as a result of their negligence which led to a financial loss for his client. That's where their professional indemnity insurance policy comes in.
Professional Indemnity Insurance for IT Consultants
In the above example, the professional indemnity insurance policy would activate and cover the legal fees and any potential damages that may be awarded should they be found responsible.
Even if the IT consultant has done nothing wrong and was not negligent, they could still be accused and have to defend themselves. The legal fees associated with defending these claims can be quite significant and a professional indemnity insurance policy will also cover this.
Get Your Quote
To get your quote, simply click the button below and you will be brought to the page that is relevant for you.
Public Liability Insurance
You may also require public liability insurance or employers liability insurance. Fortunately, we have a website dedicated to this which will have all the relevant information you need and allow you to get a quote quick and easy. Visit www.publicliability.ie and get your public liability insurance quote today.
These websites are owned and run by Burke Insurances Ltd.