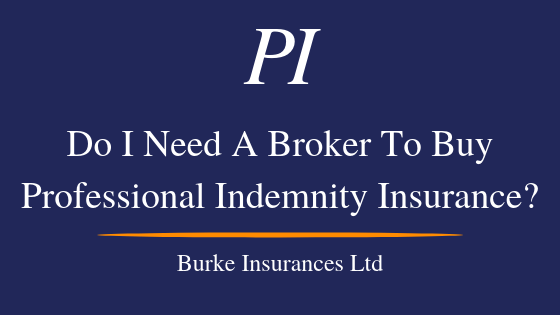 Do I need an Insurance Broker to buy Professional Indemnity Insurance?
Wondering do I need an insurance broker to buy professional indemnity insurance? The short answer is no, but you may have some questions regarding your requirements. PIINSURANCE.IE is the home for Irish Professionals seeking Professional Indemnity and Malpractice Insurance. The site is run by Burke Insurances Ltd. Burke Insurances Ltd have specialised for 50 years in Commercial Insurance, Professional Indemnity Insurance, and Business Insurance of all kinds.
We have a lot of knowledge in arranging professional indemnity insurance in Ireland. Lots of new businesses have developed in recent years, and our skilled team are on hand to talk you through the type of cover you require and answer any questions you may have. The Aim is to help you obtain the best quote for you, with as little hassle as possible.
Call us now or follow the link to check if we can give you a quick quote. If your occupation is not listed don't worry simply follow this link and fill out a proposal form. For more information call our office on 091-563518 or email info@piinsurance.ie
Our team in PIINSURANCE.IE can arrange a competitive policy to match your requirements.
Some of the areas we specialise in are:
Accountant's professional indemnity
Architects professional indemnity
Estate Agents professional indemnity
IT consultant's professional indemnity
Management consultant's professional indemnity
Media consultant's professional indemnity
Engineers professional indemnity
Business Consultant professional indemnity
To get your Quote simply click the button above and go to our quotes page. If your occupation is not listed click the "Occupation Not Listed" button.
Just select your occupation and proceed to complete the proposal forms – In most cases you will be able to obtain a quote and purchase covers immediately.
This website is owned and run by Burke Insurances Ltd.