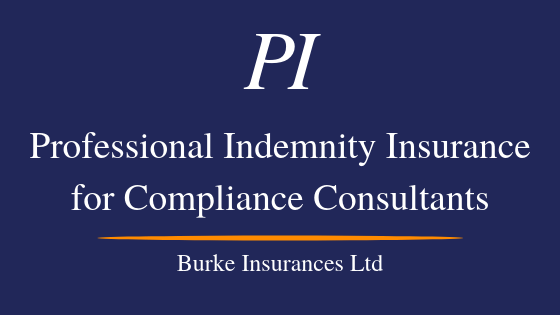 Professional Indemnity Insurance for Compliance Consultants
Professional Indemnity Insurance for Compliance Consultants
Professional indemnity insurance for compliance consultants from Piinsurance.ie. This website is owned and managed by Burke Insurances Ltd.
To get your professional indemnity insurance quote simply click the button above and you will be brought to the relevant form. For more information on professional indemnity insurance read on our contact us using our web-chat or our contact page.
Professional Indemnity Insurance
As a compliance consultant, the advice and consultation that you offer to your clients could directly affect the welfare of their business. For example, if you're a GDPR compliance consultant who gave misinformed advice which resulted in your client breaching GDPR then you would be negligent and liable for damages.
Once you offer advice and consultation in a professional capacity you could potentially face a professional indemnity insurance claim, whether you were negligent or not.
Even if you've done nothing wrong, your client may take a case against you. The legal costs associated with defending these claims can be very high however, your professional indemnity insurance for compliance consultants policy will cover these.
If you are found to be negligent your professional indemnity insurance policy will also cover any subsequent compensation that may be awarded.
Get Your Quote
If you are interested in Professional Indemnity Insurance and would like a quote then simply click on the button below and you will be brought to the proposal form.
Once the form is completed and submitted, a member of the Burke Insurances team will be in touch with you shortly.
Burke Insurances Ltd
Burke Insurances Ltd. are a Galway based insurance brokers with over 50 years of experience and expertise.
If you are interested in learning more about Burke Insurances, you can visit the about us section or meet the team.